When it comes to searching for the most efficient and financially effective sources of electricity generation, solar energy comes up. The main reason is that the electricity we get from solar energy is not only pocket-friendly. More than that, it also has no negative effect on the environment. Even better, the solar energy method of electricity production helps decrease pollution. Most importantly, it can make the environment cleaner.  
The case happens in Pakistan as well. Accordingly, we can find some companies offering solar solutions. Zero Carbon comes up as the best solar company in Pakistan. But what makes this company the best option to get a solar power system in Pakistan? Let's discuss this further!  
Why Should We Go to Solar? 
For sure, there are many reasons why we should choose solar. In this regard, financial savings and helping the environment come up as the two main reasons. So, whether your motivation to go solar is economic, environmental, or both, there are various benefits you can get when choosing a solar company.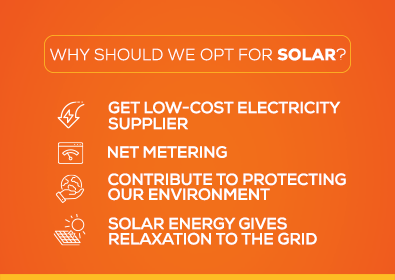 Get Low-Cost Electricity Supplier
We all know that Pakistan has experienced a significant increase in electricity prices. In this context, what if you can purchase electricity from a supplier that does not take a huge amount of money in return?  
That will be incredibly unbelievable, right?  
Yes, we actually can.  
We know that the sun is the biggest electricity supplier. The best part is that it does not charge you if you can harness its immense power. Thus, the main benefit you can get by choosing the best solar company in Lahore is low-cost electricity.  
So, basically, you can reduce your bills to zero with an adequate system of solar panels. In fact, by getting the best solar company in Pakistan like Zero Carbon, you can have flow-cost electricity for, at least, 20 to 25 years. Wonderful, isn't it? 
Net Metering
If you have not known, Net Metering is one of the best things about a grid-tie and a hybrid solar solution. Plus, it comes with great benefits like environmental conservation and reduced bills.  
Net metering in Pakistan is a mechanism that enables a solar user to exchange excess electricity with credit units during off-peak hours. Well, Zero Carbon makes Net metering in Pakistan available for everyone. 
Contribute to Protecting Our Environment 
Do you know that Pakistan is the fifth most vulnerable country to climate change?  
No doubt, our climate-related vulnerabilities are rising at a rapid pace. The only solution to this issue is to expedite a shift towards a carbon-neutral Pakistan. This includes the transition to renewable energy sources. 
Another remarkable thing about solar energy is that it is the cheapest source of renewable energy. This is why it has become extremely popular these days. Furthermore, it has become greatly beneficial for the environment. Why? 
Because using solar energy can reduce the use of fossil fuels. After all, we know that fossil fuels are the main source of pollutants in the atmosphere. Thus, when you choose solar energy, you can also reduce carbon footprints. As a result, you can contribute to positive climate change and diminish global warming. 
Solar Energy Gives Relaxation for the Grid
Solar energy systems can help national electricity management to lead the progress of the whole nation. 
So, when more people are using solar power systems, they will need less electricity from the grid. In return, there will be less burden on the grid. 
More electricity supplies.

 
The excess electricity supplied to the grid via net metering can be used to supplement the supply of electricity to other users. 
Help you prevent rising electricity costs.

 
These days, the cost of electricity in Pakistan has been leveling up quite high. The main reason for the rising electricity cost is the exhaustion of fossil fuel demands.  
On the other hand, the price of solar panels cost in Pakistan has decreased. Better yet, the solar energy solution can help you prevent the rising prices of electricity in the country. 
Reasons to Choose Zero Carbon as the Best Solar Company in Pakistan
Zero Carbon provides the most efficient and innovative solar systems comprising: 
Solar panels

 

Inverters

 

Cloud-connected 24/7 support

 
We have a simple, hassle-free approach, and post-sales maintenance services. Most importantly, we ensure that our clients get the most reliable, cost-effective, and sustainable solar solutions. 
Here are the 2 main services we offer! 
Net Metering with Zero Carbon
As the best solar company in Pakistan, we make the best effort to help you at every step of the net-metered installation process.  
Look at our easy process below! 
We will start with the installation of a net-metered compliant solar power plant.

 

Then, it will follow by an application submitted to the respective electricity company.

 

The electricity company will inspect and issue the NOC.

 
Finally, an agreement will be signed with the electricity company. Then, a license is issued which allows the activation of your net-metered solar system. 
Solar Financing
We have partnered with multiple banks to light your houses with solar panels. Even better, Zero Carbon helps clients secure loans from partner banks at a mark-up rate as low as 6%. With our smart solar panel financing solution, residential and commercial consumers will be able to get a long-term solar panels loan financing facility. 
If you are interested in getting the benefits above, here is how you can start your journey towards energy independence.  
Book Your Free Survey

 

Get a Customized Package

 

Project Installation

 
Having energy independence is something that can benefit all of us in the future. To get more details and understand better, you can find and contact us here!