The popularity of installing solar panels in Pakistan is increasing along with the high costs of electricity. With more people switching to solar systems, there is a need to get the right solar company for installation. This is where Zero Carbon comes in as a savior. The company provides technologically advanced energy solutions for residential, industrial, agricultural, and commercial clients. So, how to book a free survey for solar system installation from Zero Carbon? Have a look at the guide below! 
What Is Solar System Installation Survey?
In brief, a solar survey is a procedure where the engineers, project managers, and surveyors visit the site. In this survey, they inspect whether the area is free of any obstacles to solar system installation.  
Here are some focus points during the solar survey: 
Examine the climate and environmental conditions, especially the roof

 

Check out monthly kWh consumption

 

Get the status and size of the property 

 

The suitable solar power requirement

 

Decide the best spot for installation

 
Once the survey is completed, you can then get ready for the solar panel installation at your location.  
How to Book a Free Survey from Zero Carbon?
Operating in Pakistan, Zero Carbon is the leading customised solar power solution provider in the country. We specialise in providing renewable energy systems to combat climate change. The best part is that our company offers customised, reliable, and resilient solar energy solutions. 
As a certified distributor of Canadian Solar, Zero Carbon aims to help this country transition to a low-carbon and independent state of energy. Moreover, we have a solid local market reputation with various industrial and commercial clients.  
For our products, Zero Carbon offers customised solar energy solutions for: 
Residential

 

Commercial

 

Industrial

 

Agricultural

 
As the best solar company in Pakistan, Zero Carbon is ideal to start going environmentally friendly and cost-effective with solar system installation. To book a survey from Zero Carbon, you can request a detailed solar estimate by filling in the request quote form. Once you send your request, you will receive an accurate quote within 3 to 5 days. 
The Services We Offer
In providing solar system installation, Zero Carbon offers two beneficial services you can choose from.  
Net Metering 
If you choose net metering, we will help you at every step of the net-metered installation process. By choosing net metering, you will get electricity power from solar energy for your own use. Plus, the system will export the excess energy produced to the national grid. As a result, it will set off units against the electricity you consume during off-peak hours.  
In the end, net metering benefits you to: 
Minimise your utility bill 

 

Get paid for excess energy exported to the grid

 
Solar Financing
At Zero Carbon, we also help you get secure loans for solar system installation from partner banks at a low markup rate. With our smart solar panel financing solution, residential and commercial consumers can get long-term solar panel loan financing facilities. 
To get in touch with our representative, you can simply complete our request for a meeting form available on our website.  
Why Switch to Solar System Installation?
Solar panels come up as a great solution to the energy crisis and high electricity costs in Pakistan. Moreover, solar panels are ideal as they make only fewer pollution risks to the environment. In brief, speaking of the reasons to switch to solar system installation, we can explore many reasons.  
Here are some of the main reasons to get solar systems in Pakistan!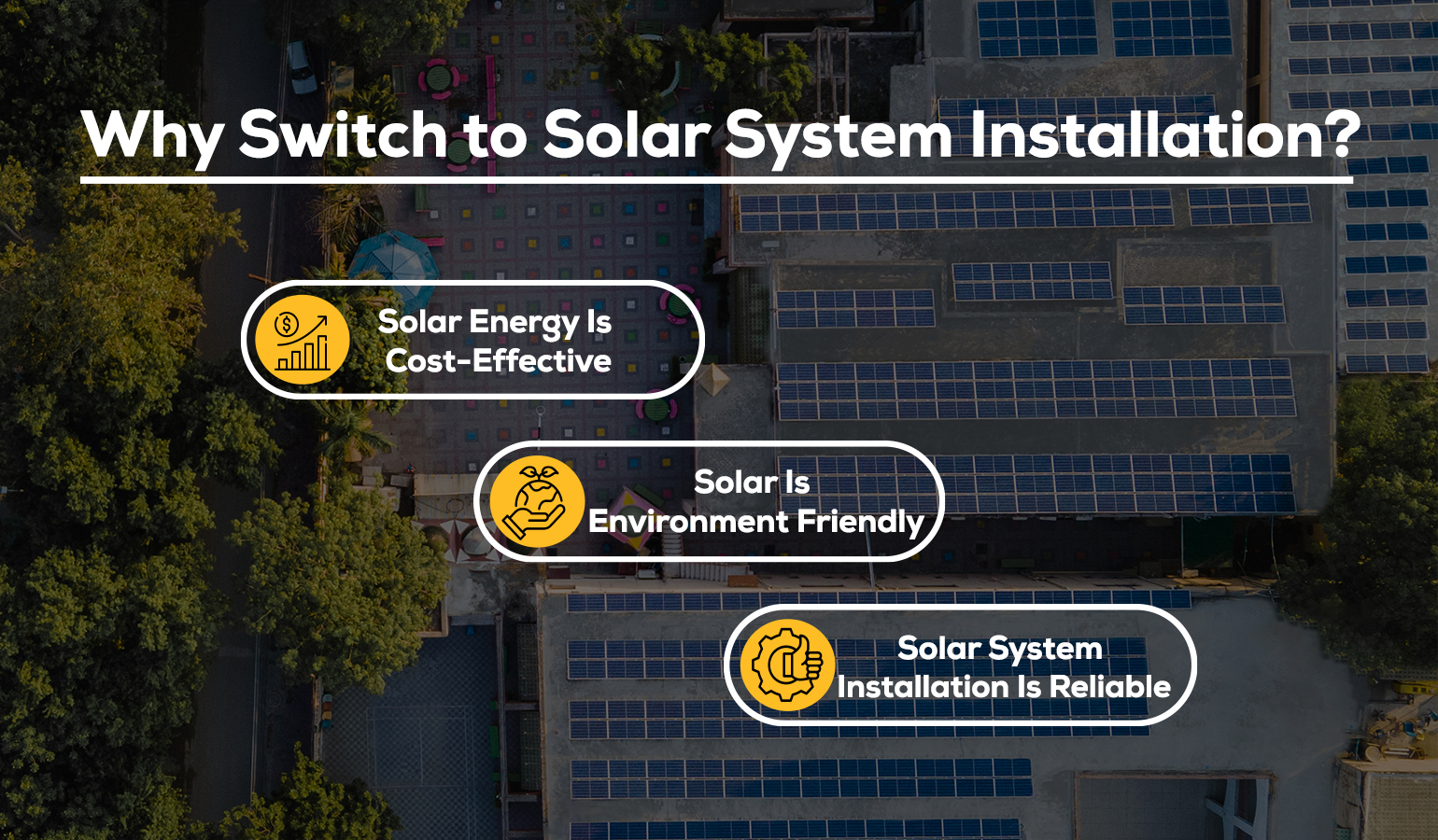 Cost-Effective
The main reason people switch to solar is that they can save money. Even better, you will not have to spend money on monthly bills or maintenance. Instead, the money you spend on solar system prices in Pakistan will be gradually refunded by your savings. 
Environmentally Friendly
If you care about the environment and seek an environmentally conscious choice, the installation of solar panels is the best choice. Why?  
Well, solar energy provides electricity without releasing toxic emissions. This also means that solar system installation protects the environment from harmful gases that might deplete the ozone layer. 
Solar System Installation Is Reliable
As we all know, solar energy depends on sunlight, which is at its peak during office hours. Hence, installing solar panels will result in an uninterrupted workflow. Yes, this means that there will be no cutoffs or power shutdowns as in other traditional electric grids. Therefore, we can confidently say that solar energy is a very efficient and reliable option that boosts productivity. 
Ready to Book Your Free Survey?
Indeed, considering the reasons above, it is time to switch to environmentally friendly and cost-effective solar system installation. Well, Zero Carbon is the best option to choose when it comes to getting customised, reliable, and resilient solar energy solutions. 
So, there is no need to wait any longer, book your free survey today!